Details

Published: Tuesday, 07 April 2015 14:00
Written by Pearl Scan
Hits: 2674

So you've made the decision to go digital with your legal files but now you have digital copies, you're not sure how to manage them. Let me take you through some options.
Without an effective document management system, you won't be able to reap the efficiency benefits legal document scanning brings with it. So here are a few different methods of managing documents digitally that have helped businesses within the legal sector to retrieve, share and edit files quickly and easily.
Networks & Onsite Computers
This can often seem like the simplest way to store digitised files while still being able to share them digitally. A shared network enables anyone logged into the company computers to access the documents and share them among colleagues. If the digital images have been fully indexed and OCR processed, you will be able to find them through simple text searches for titles, dates, names and even contents. The only downside to storing files this way is that they can only be accessed on computers on the network making off-site access virtually impossible.
Cloud Systems & Offsite Access
Cloud systems offer a lot more flexibility with regards to accessing documents because as you probably already know, cloud storage enable you to access files from any device with access to the internet. This flexibility is often overshadowed by stories about security breaches but at the end of last year, three popular cloud services (Dropbox, Google Drive and OneDrive) reported nearly 40 million users collectively and that's not mentioning the hundreds of millions of people connected to Apple's iCloud services. If files are encrypted and password protected you should have no security issues.
The downside to storing files in the cloud is that in some cases you may have to pay for the privilege although the cost will be a lot less than if you were to go back to storing them in hard copy format.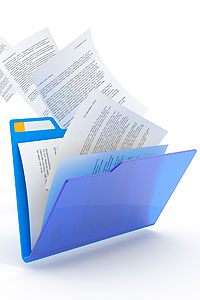 File Management Software
There are a wide range of file management softwares available from the simple to the extremely complex. The key with using software to manage your documents is to find one that suits the needs of you and your company. If you need to keep it simple due to a lower IT literacy among your staff then that's fine (and pretty sensible since you don't want to invest in software that no one can use) but if you're looking for something more technical with extra features, it can still be easy to find one suitable.
Legal Document Management
An eBible is a document management system for solicitors within the commercial and criminal law sector. It has been specially created and designed to eliminate time wasted searching for documents and printing faxing or posting them. It can also aid in collaborating on case files with colleagues.
eBibles offer storage of indictments, prosecution case summaries, witness statements & interviews, case exhibits, mobile phone billing data, court documents and any other legal file or document. They also offer additional features such as electronic date stamping, indexing, a contacts information folder, web links to relevant information and video capabilities.
eDisclosure
All of the above management methods will help you to collect relevant documents needed for eDisclosure. Simple searches for the relevant data will bring the files up in seconds and they can then be copied and sent to relevant people or gathered into a digital folder for use in court.
Pearl Scan Legal
Here at Pearl Scan Legal, we are dedicated to helping our clients get the most out of going digital. We provide a bespoke yet affordable legal document scanning service as well as document scanning solutions which have proven successful for many businesses with the legal sector and helped them to manage their documents in a safer and more efficient way.
If you would like to know more about our legal document scanning and management services or our additional extras like OCR processing, image management software, document management systems and cloud storage options, browse our website or get in touch and we'll be happy to discuss your requirements.