Details

Published: Tuesday, 17 February 2015 16:33
Written by Pearl Scan
Hits: 3039

Save IT costs with Digital Document Management. Yes, it's true! You can save IT costs by adopting a digital document management system.
That might sound like a bold statement, perhaps even too bold, but as weird as it sounds, it's true. It could be seen as almost contradictory that implementing a digital way of working could actually reduce the amount of IT you're using so let's take a closer look.
What IT do you use with paper based storage?
-Computers
Despite using paper based storage, almost all businesses and organisations nowadays use computers (or laptops, tablets etc) for majority of the their daily work.
-Printers
When companies store their documents in hard copy storage, they have to print out each document they need to store.
-Photocopiers
Once printed, these documents may need to be shared. In which case, they will usually be photocopied numerous times to be distributed amongst the necessary people.
What IT will you need with an electronic document management system?
-Computers
As before, a great deal of work is completed on computers, laptops and tablets. In this case however, all files and documents are dealt with on these devices too. Photocopiers and printers are no longer needed as the documents can be accessed in files on a shared network or through a cloud platform like Pearl Cloud. They can be shared this way too or through email so your office can survive without paper documents quite easily. The computers themselves won't really be used for longer than they usually are either because accessing your documents will only take a moment through an easy text search. This text search is made possible once you have had your digital documents fully indexed and OCR processed.
-Scanners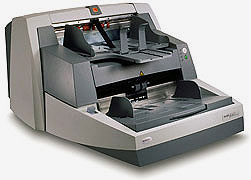 You would think that as a document scanning company, here at Pearl Scan, we wouldn't endorse the use of scanners in the office but it's not the case. While we recommend you outsource your large scanning projects to us, once the large scanning is out of the way, you may want to continue digitising the few documents you receive weekly, for yourself. If your company receives a large bulk of documents per week, it would be pointless to struggle with them once again so we can provide ongoing scanning solutions in these situations.

So, if your company deals with a large bulk of documents weekly (or even daily), by adopting a digital document management system you can eliminate the need for printers and photocopiers and even scanners thus eliminating the costs that come with them. With the reduced amount of IT, time will be saved because everything can be found through one device. This increased efficiency and productivity brings it all back to saving and making more money which is what business is about, right? And if something helps to make business better, how can you say no?
If you are interested in getting some more information on the legal scanning service we offer here at Pearl Scan, get in touch today. For a free, no obligation quote for your legal scanning and legal document management project, complete our online form by following the relevant links below.